Dingle native, David Geaney, a 5 X World Champion Irish Dancer, is taking the world by storm. After an illustrious competitive career, amassing countless major titles, David is now performing all around the world! Known as The Dingle Dancer, David is one now regarded as one of Ireland's leading entertainers, adapting with ease to different venues & audiences. Renowned for his ability to get any crowd going, his creativity & attention to detail, David is one of the most sought after entertainers on the scene. Let's look at just a snippet of his biggest achievements.
Having being trusted to lead shows such as Celtic Steps The Show, Trad On The Prom & Pulses of Tradition from the age of 16 years of age, David got a taste for the stage and decided to set up his own show, Velocity, which he debuted at the Edinburgh Fringe Festival in August 2017. Alongside World Record Holder for the fastest feet in the world, James Devine, the show received rave reviews. The show was seen by thousands of people, with some dubbing it "the best show we have ever seen at the fringe" and receiving several 5 star reviews from national press, with The Scotsman claiming it to be the "dance hour of the Fringe"!
In 2017, David was approached by the World's Biggest Talent Show, Britain's Got Talent. Once again showing his unique creativity, David's performance incorporated LED technology and screen programming, with holographic elements! David's performance was widely applauded with Simon Cowell acknowledging that he was "onto something" calling him "an ideas man"! After reaching the live semi finals, 3 days after his final year exams, David produced a spectacular performance in the semi final in front of millions of viewers on live television! David now says that he wants to take "these unfinished ideas" and "take them to where I originally imagined them in my head!" His clear passion for technology and performance will no doubt produce an incredible spectacle that will be witnessed around the globe!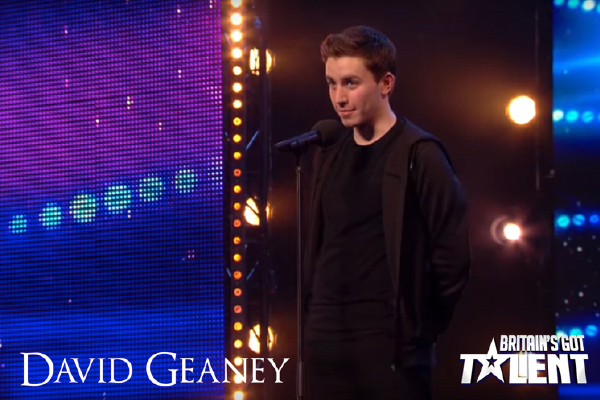 Broadway, New York followed with David debuting his show at The New Victory Theater on 42nd Street, Times Square! The show was sold out for its entire run with several newspapers including The New York Times , The New Yorker and the world renowned Playbill had glorious reviews for the show saying "The unstoppable duo—and guests AnneMarie Keaney and Gabriella Wood—dance at breakneck speed for 75 minutes in this explosive production showcasing the past, present, and future of Irish Dance. Backed by a live funk-pop-Celtic band and DJ, the show is "a rock concert meets jam session meets epic choreographic feet!" 
With an amazing cast featuring some of Ireland's top musicians & dancers, Velocity The Show was sold out for the entire run bringing audiences from all over the world through the evolution of Irish music, dance and culture, from the Sean-nós traditional routines, to the travelling dance masters, to famous "feis" scene right up to the modern day interpretation of our famous art forms and culture! They even had Robert Di Niro come and see the show!
David is now planning on bringing this production out on the road in 2022 on a national tour of the US. Be sure to follow David across all social media pages to keep an eye out for when he will be in a city near you!
David is the heart and soul of his family's famous bar, The Dingle Pub, in Dingle, County Kerry. David dances with live musicians nightly and entertains tourists from all around the globe with National Geographic stamping it as one of the top 3 things to see in Dingle! It is here that he established his strong connection with live music and live audiences, free styling & interacting with different kinds of crowds, establishing David as more than just a dancer but as a top class showman! David also works in the family pub, surprising tourists by taking the floor after answering their "when is the dancer" queries & serving them their delicious dinner just moments before! If you haven't seen David in this raw & pure environment, you haven't seen David at his very best!
David has also performed with other major acts including world renowned The Chieftains, The Kilfenora Ceili Band, Aslan, and world famous Sharon Shannon. David has performed regularly with Sharon on her trips to Kerry, whom she recently dubbed 'The present day Fred Astaire' and 'A national treasure!'
David now tours regularly with the world renowned Joanie Madden and Cherish The Ladies on their US and Irish tours, including Joanie Madden's world famous "Folk'n Irish Cruises"! Make sure and check his tour dates to see when you can catch this grammy winning show!
With his talents well recognized at this stage, and with Riverdance and the likes an option in the past, David decided to remain at home to finish his degree in the University of Limerick studying Economics and Mathematical Sciences where he graduated in 2017. With his degree in his back pocket and an unyielding desire to produce spectacular material to showcase to audiences around the world, the young Kerry man won't be falling back on the math & economics problems just yet!!